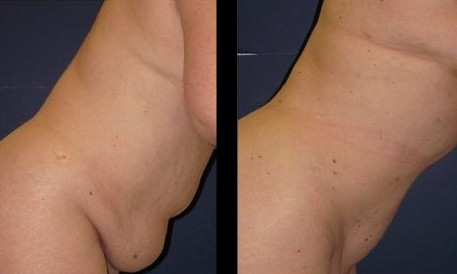 Contouring Lipo
is a non-invasive fat removal procedure utilizing a laser fiber to break up and dissolve fatty tissue trapped beneath the skin. This technique encourages the development of collagen, which results in a tighter, more toned appearance. The procedure is done in the office and finished within 2-3 hours. Most commonly treated areas are, upper and lower abdomen, back, flanks, chin, face, jowls, neck, hips, male breast, thighs and arms.
The Procedure
begins by injecting a local anesthetic solution directly into the targeted areas, this also shrinks the blood vessels, minimizes blood loss and bruising. A laser fiber is fitted into a small tube and inserted under the skin. The laser is moved from side to side, rupturing fat cells that are then removed from the body by suction. After the procedure absorbent pads are placed over the small incision sites and the post operative liposuction garments are pulled on. Expect drainage from the incision areas for about 24-36 hours. Because the residual local anesthesia can last from 8-36 hours, plain Tylenol is often sufficient to treat post-operative discomfort. You are encouraged to walk around after your surgery and most patients return to work in 1-3 days.
The Healing Process
. Before the planned results are achieved there is an initial period of swelling and bruising. The worst can be expected on the 2nd and 3rd days after surgery and there after gradually subsiding. Most bruising and swelling subsides substantially after one week, but is not unusual to last 2 weeks or longer.
Results
will continue to improve within the first 6-8 weeks following the procedure. As the skin re-adapts to new curves and outlines, optimal results can take up to 4 months.